Renue By Science Product Review
Company
Renue By Science (RBS) originated in Florida, US. This brand is one of the largest and most popular that sells β-Nicotinamide Mononucleotide (β-NMN) supplements. In 2015, the first NMN product was released. Currently, RBS has more than 30 products that are related to healthy aging. Most of the products are related to restoring NAD+ levels. One of the best Renue By Science products in the NAD+ precursor category is LIPO NMN.
Properties of the product
The liposomal NMN supplement offered by the RBS company contains 250mg β-NMN per serving. It contains other ingredients such as vegetable cellulose, sunflower lecithin, rice flour, and microcrystalline cellulose. One capsule contains the daily value of the supplement.
LIPO NMN is formulated with powdered liposomal technology that protects NMN from stomach acid and may increase absorption in the intestine. For this reason, the dose of the supplement may be smaller than the regular supplement.
All ingredients are from plants, so LIPO NMN is suitable for vegans, and does not contain artificial colorants, flavors, or preservatives. Also, supplements are produced without GMOs. 
Manufacturers recommend storing supplements in a cool, dark place.
Capsule

The capsule size is 0, pearl-colored, and made of vegetable cellulose. Inside the capsule is a white and fluffy powder. Due to the small amount of NMN, the capsule is small, and it can be easily swallowed.
Package
RBS supplements are sent in an unbranded bag that protects the product against sunlight and shock. The supplements are packaged in a white, 200cc bottle with an attached cap. The bottle contains 90 capsules for 90 servings. Also, the bottle has a neck protector band, as well as a cotton and moisture-retaining bag inside.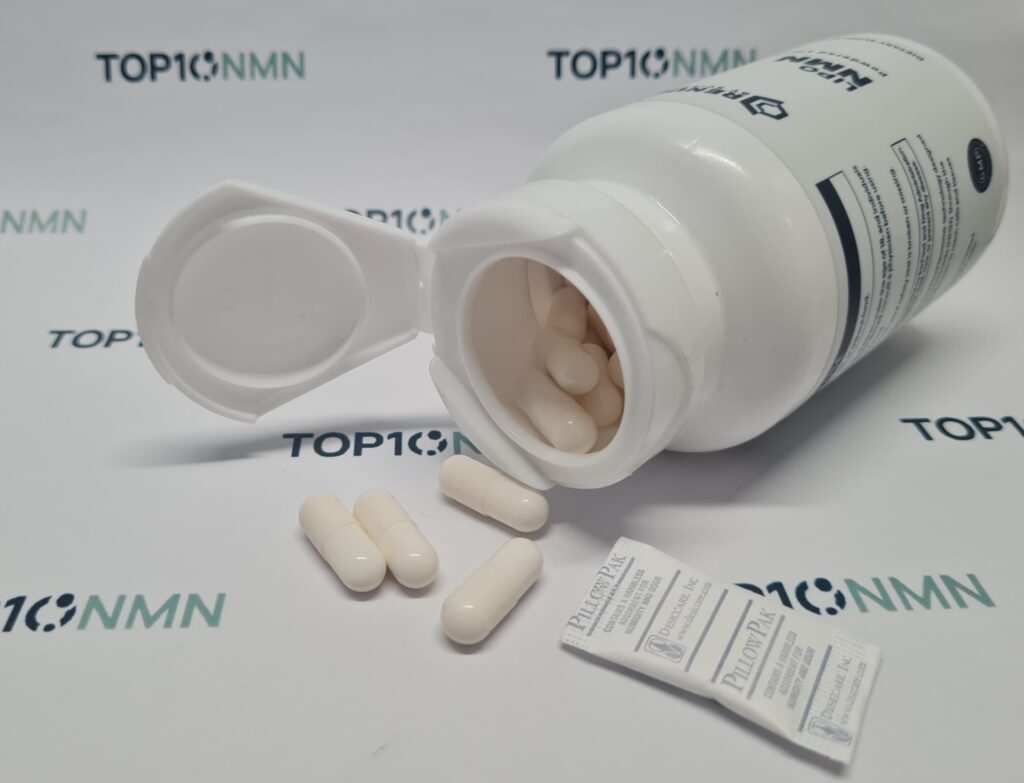 Quality standards

NMN supplements are manufactured in a GMP (Good Manufacturing Practice) certified facility which is FDA registered. The product is also third-party tested.
Where to buy it?
Renue By Science products is available just on the official renuebyscience.com website.
Price
The price of LIPO NMN is $94.95. Comparing the price of this product with other liposomal NMN providers, we can say that it is the leader and offers the lowest price in the market. If you're not satisfied with your purchase, you can return it for a refund within 30 days of your purchase.