Toniiq NMN Product Review
Company
Toniiq company was established in Michigan, USA in 2013. The company sells supplements in longevity, immunity, sleep, and beauty categories, and its primary goal is to provide high-quality, pure supplement concentrates.
Properties Of The Product
Toniiq offers pure (98%) β-Nicotinamide Mononucleotide (β-NMN) supplements that contain 300mg of β-NMN per serving. Despite the declared purity and quality, the supplements contain other ingredients such as microcrystalline cellulose, vegetable capsule, magnesium stearate, and silicon dioxide.
The company suggests taking 2 capsules up to 4 times daily. Toniiq provides non-liposomal products, and the daily dose of NMN is low compared to the other competitors. 
Producers claim that their NMN is fully stable. It does not need to be stored in a cool and dark place. This is convenient because it is not always possible to assure a cool place for the product. It also ensures that the product will retain its active properties during shipping/transport and will have a longer shelf life.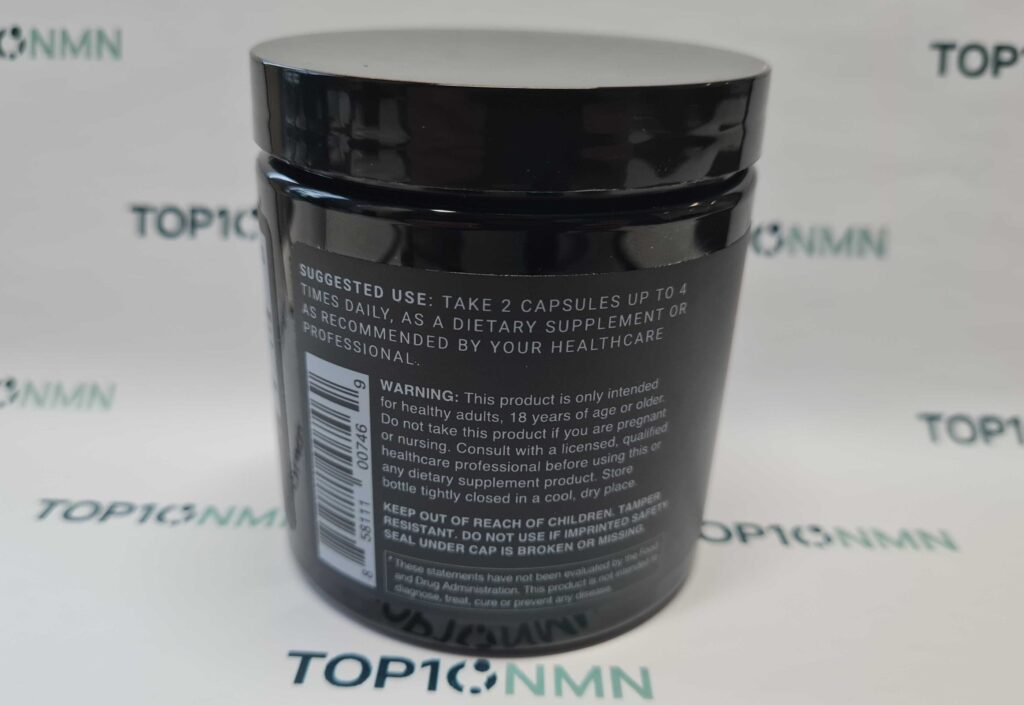 The supplement is suitable for vegans, there are no artificial colorants or flavors.
Capsule
One Toniiq capsule contains 150mg of the white powder of non-liposomal NMN. The capsule is white, 0-size, and made of microcrystalline cellulose. This capsule is one of the smallest in the NMN market, for this reason, it is easy to swallow.
Package
Toniiq supplement doesn't have a branded box. Capsules are packaged in a black, 200cc jar with the moister-absorbent bag. The black container and moisture-absorbing bag protect the supplements from external factors (sunlight and moisture) that can shorten the shelf life of the product.
The jar contains 60 capsules or 30 servings per container. Also, there is an option to order the jar with 180 NMN capsules or 90 servings per container.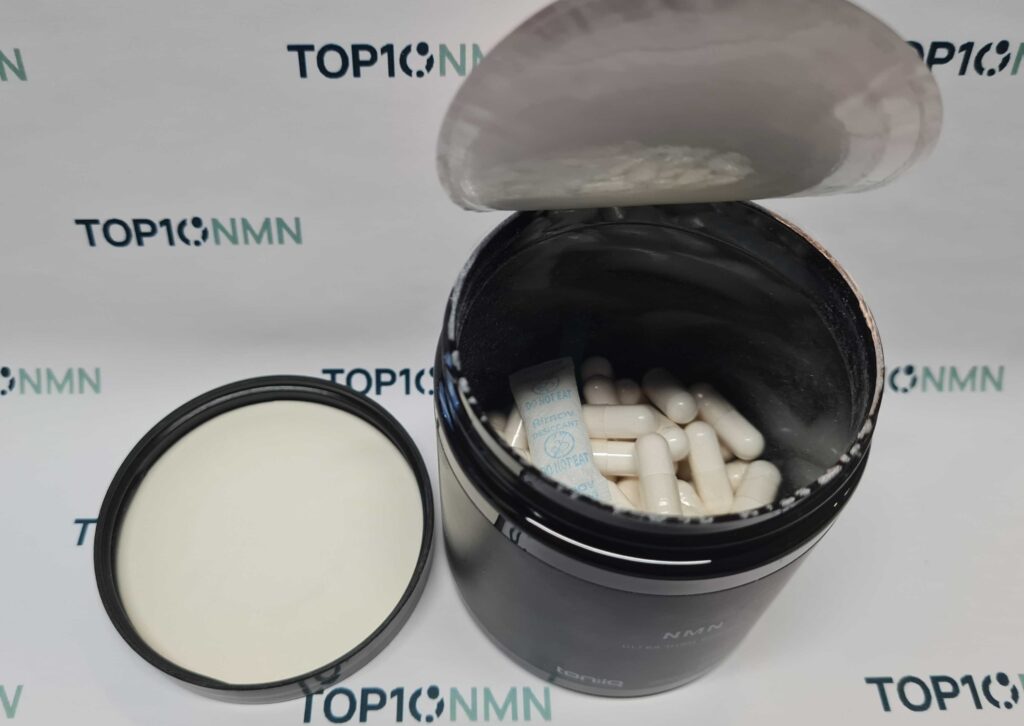 The package has a cover seal protection, which ensures that the supplements reach the user without opening.
It is worth noting that there is no cotton wool in the package because the container is filled to the top with supplements.
Quality Standards
Toniiq NMN supplements are manufactured in GMP-certified and NSF-approved manufacturing facilities. Each batch is tested by third-party laboratories to ensure that supplements reach the correct standardized level of purity and active ingredients.
Where To Buy It?
Toniiq NMN product is available on the official website. Also, supplements are sold on platforms such as Amazon and Walmart.
Price
Toniiq NMN 60 capsules (30 servings) jar cost $30.99. There is an option of 180 capsules (90 servings) for $50.99.The company offers a 60-day money-back guarantee. Compared to other NMN providers, the price of Toniiq NMN is low, but it is worth mentioning that the reason for the low price is only 150mg of non-liposomal NMN per capsule.